DOWNLOAD THE APP

Download for iOS
Download for Android

Open the app and create a free account.




Sign in




Follow the presentation group

Pastor Jeff Presentation




Links appear in the bottom left corner of the app as presentation advances.



The Faithlife Study Bible mobile app listens for Signals from the slide presentation during a service.
Announcement slides will send a calendar signal to your phone, appearing as a hyperlink at the bottom of the app. Tap it to add events to your phone's calendar. And when Bible verses appear on screen, tap the Signal link to open the reference and follow along.
Click here for more detailed instructions.
Here are simplified instructions :
Set your mobile device to receive Signals
Make sure you are connected to church's wi-fi. The password is in the bulletin.
In the Faithlife Study Bible or Logos Bible app, navigate to the Presentations menu under Tools.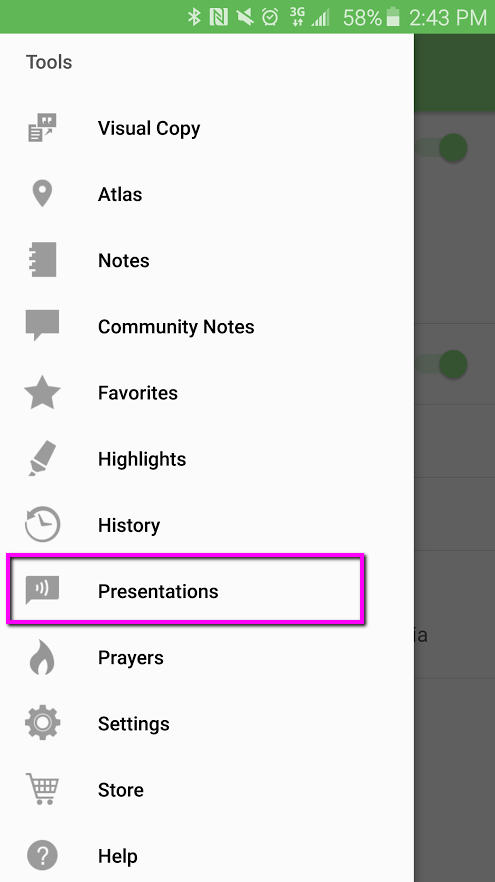 Swipe Follow presentations on.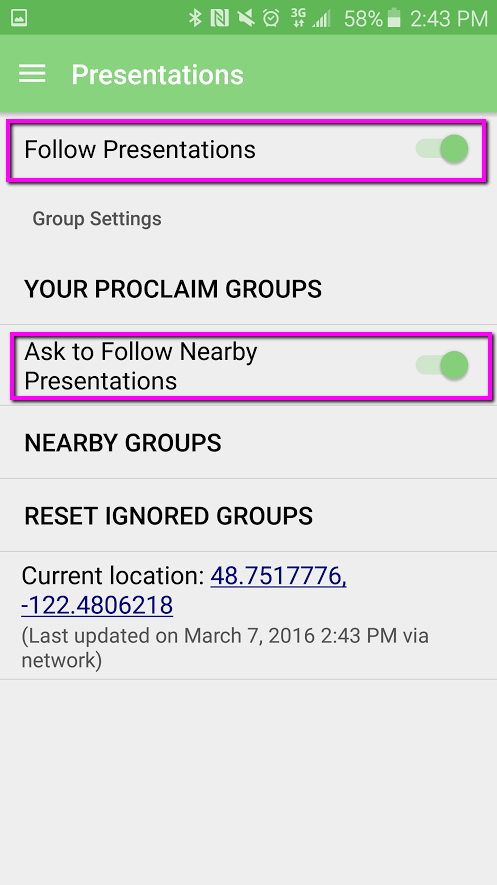 If you've never followed a presentation by a particular group before, you will also want to swipe Ask to Follow Nearby Presentations on. This ensures that when the presentation goes On Air, the mobile app will ask you if you want to follow it.
Follow the Pastor Jeff Presentation group.
Once you've followed a presentation by a particular group, that group will be placed in the Proclaim groups list. In the future, whenever a presentation from that group goes On Air, you will automatically start to follow it. If you no longer wish to automatically follow presentations by that group, you can tap the group name and select Forget this group.
If you are still unable to see the Signals or presentation, ensure that you have location services turned on for your phone.